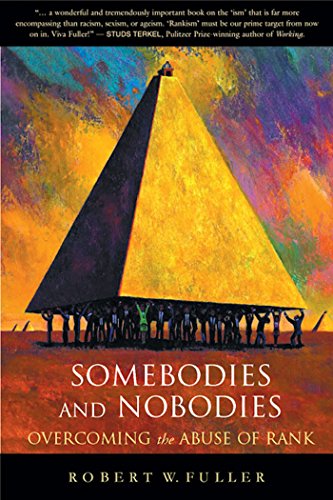 Somebodies and Nobodies
Somebodies and Nobodies: Overcoming the Abuse of Rank is about the abuse and discrimination tolerated everyday in the workplace, the home, the playground, the schools, everywhere. This discrimination based on rank and these abuses of power are finally being recognized as the injustices they have always been. Somebodies and Nobodies was published in 2003 by New Society Publishers.
Want to see an animated video of rankism in action? Click here!
---
What People Are Saying
"…a wonderful and tremendously important book on the 'ism' that is far more encompassing than racism, sexism or ageism. 'Rankism' must be our prime target from now on in. Viva Fuller!"
Studs Terkel, Pulitzer Prize-winning author of Working.
"Somebodies and Nobodies deserves a place among American wisdom classics alongside Eric Hoffer's The True Believer. Robert Fuller approaches the fundamental problems of rank and human status-seeking from a new perspective, with new insights, and with wonderful originality. This book will promote liberating debate about social norms, organizational structures, and governance."
Michael Murphy, co-founder of Esalen, author of Golf in the Kingdom and The Future of the Body