Dignity for All: How to Create a World without Rankism
By Robert W. Fuller and Pamela A. Gerloff
Berrett-Koehler Publishers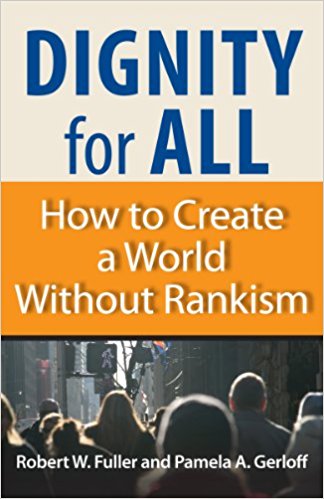 In Dignity for All: How to Create a World without Rankism, Robert Fuller and Pamela Gerloff take dignity work to the next level. They offer a concise, action-oriented guide that will help you and anyone you know take steps to stop rankism and create a climate of dignity wherever you are. Perhaps most importantly, they show how you can prevent rankism from taking root in the first place. This groundbreaking book will help you map out your own personal strategy for creating a society in which every human being feels truly valued and respected.
Read a review written by Thomas J. Scheff, Professor Emeritus of Sociology, University of California, Santa Barbara.
For more information about Dignity for All or to order, click here.
What People are Saying…
Dignity for All gives us the essential tools to stop abuses of rank and to build high-performing institutions and organizations based on respect.
-Wes Boyd, co-founder, MoveOn.org
This handbook brings an exciting new voice to social science and to the public as well. I believe that these ideas are destined to play an important role in our century.
-Thomas J. Scheff, Professor Emeritus of Sociology, UC-Santa Barbara
A clear mandate for transforming our society into a true democracy.
-Rosalind Wiseman, author of Queen Bees and Wannabes