All Rise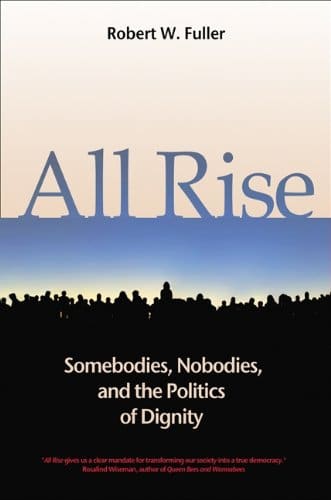 All Rise: Somebodies, Nobodies, and the Politics of Dignity is Robert Fuller's sequel to his bestselling Somebodies and Nobodies. In All Rise, Fuller argues that rankism – abuse of the power inherent in rank – does serious damage to private relationships and public institutions. The book also explores how to design social institutions that will overcome rankism and protect human dignity while laying the foundation for a dignitarian culture.
Publisher's Weekly lauds Fuller's work as a "provocative analysis" of rankism that "illuminates a rich vein of social discontent."
Want to see an animated video of rankism in action? Click here!
Purchase All Rise directly from the publisher Berrett-Koehler, Amazon, Powell's, Barnes & Noble, or your favorite bookstore. Here's the publisher's announcement.
Robert Fuller's Personal Introduction to All Rise
What People Are Saying
"Any democracy movement is, at its heart, a dignity movement. In All Rise, Bob Fuller gives us the essential tools to fight abuses of rank and to build high-performing institutions and organizations based on respect. All Rise is the operating manual for leaders who recognize the latent power of each individual to make a difference in a free and fair society."
Wes Boyd, Co-founder of MoveOn.org
"All Rise: Somebodies, Nobodies, and the Politics of Dignity give us a clear mandate for transforming our society into a true democracy. With insight, compassion, and a fundamental understanding of how rankism in all areas of our culture impacts individuals and communities, the reader is called to look at human degradation and discrimination in new ways. But unlike so many books that only articulate a problem, All Rise gives us a way to go beyond discussion to change our personal relationships, professional practices, and our involvement in our political and economic systems."
Rosalind Wiseman, author of QueenBee Moms & Kingpin Dads and QueenBees and Wannabes (on which the film Mean Girls was based).
"If only all the problems in the world were just about money, or land, or religion, or racism. But in fact, they're about power. All of these things are just excuses for the ugly tendency of those in power to abuse those without it. Worse, power often seduces the powerless as much as it corrupts the powerful. Robert Fuller exposes these ugly dynamics…and in exposing them, helps to make them easier to overturn."
Esther Dyson, Internet guru, Editor Release 1.0 and author Release2.1.