Robert W. Fuller speaks to thousands of people around the world each year. He is available for podcast, radio, and other media interviews. Contact us to book him for a speaking event in your community.
In 2011 Robert W. Fuller was keynote speaker for the National Conference on Dignity for All conference in Dhaka, Bangladesh.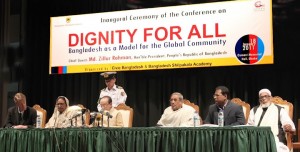 Here are some of the other organizations where Fuller has been invited to speak:
National Conference on Dignity for All, Dhaka, Bangladesh
Sino-U.S. Colloquium on Core Values and World Order, Washington, D.C.
World Academy of Arts and Sciences
TEDx, Berkeley, CA
Center for Therapeutic Justice, Williamsburg, VA
Bayer Pharmaceuticals, Berkeley, CA
National Association of Graduate-Professional Students
Haas Institute for a Fair and Inclusive Society, Berkeley, CA
National Center for Institutional Diversity, Ann Arbor, MI
Center Point Energy, Houston, TX
Wells Fargo, San Francisco, CA
Microsoft Corporation, Redmond, WA
Treasury Executive Institute, Washington D.C.
Kaiser Permanente, California
Royal Melbourne Institute of Technology, Australia
Maison des Sciences de l'Homme, Paris
Institute for Social and Economic Change, Bangalore, India
Vancouver Public Library /Necessary Voices Series, Vancouver, B.C., Canada
Press Club, Dhaka, Bangladesh
National Headquarters of the United Methodist Church, Washington, D.C.
Harvard, Stanford, Yale, Princeton, George Mason, Northwestern, McMaster, and York University
For more information about Robert Fuller's television and radio appearances, contact us.